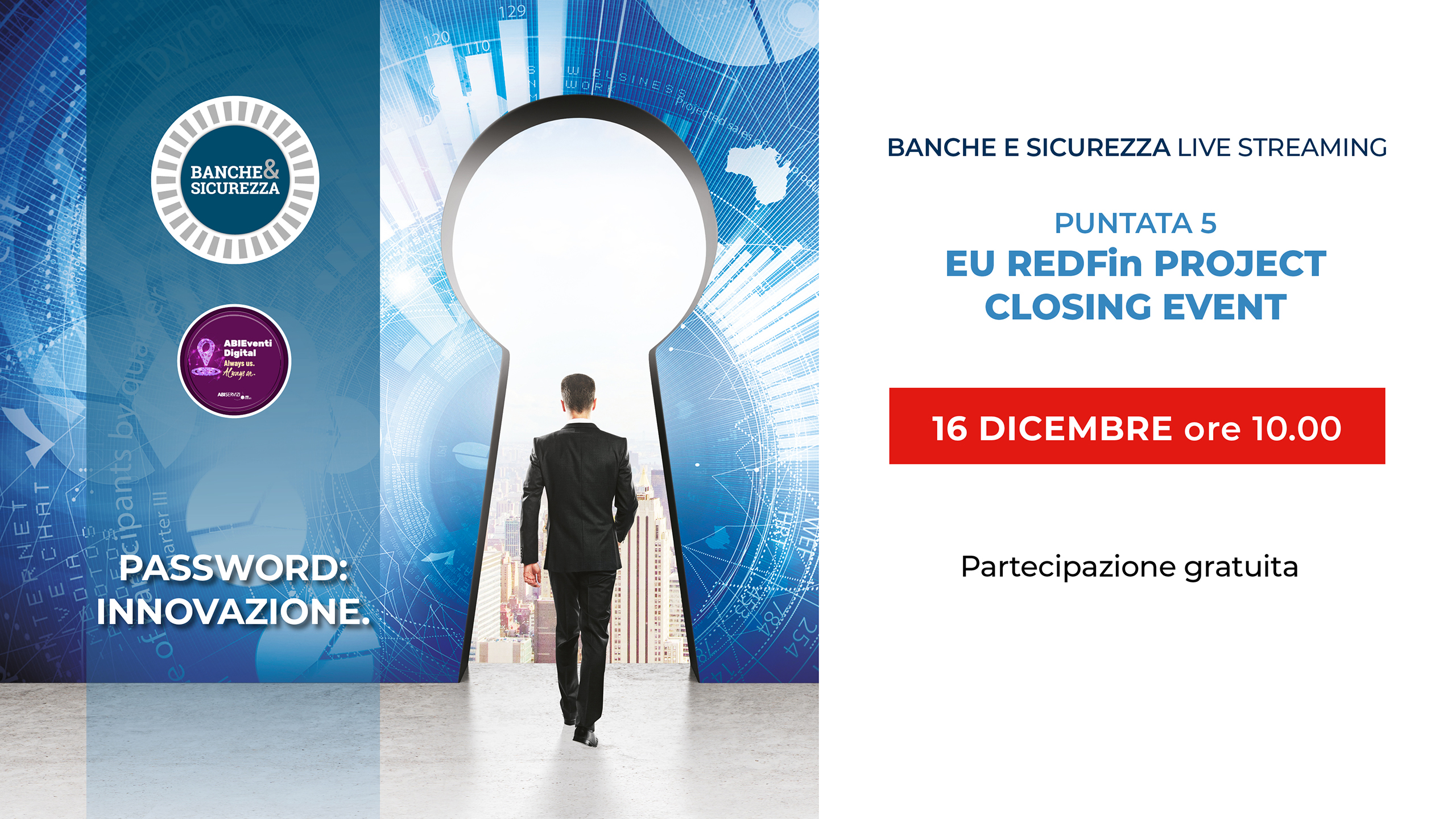 EU REDFin PROJECT CLOSING EVENT
16 DICEMBRE / 16 DECEMBER
10.00-13.00 / 10.00 A.M. - 1.00 P.M.
CLICCA QUI PER VEDERE O RIVEDERE LA PUNTATA

CLICK HERE TO WATCH THE EPISODE

Readiness Enhancement for the Defence of Financial Sector (REDFin) is an EU financed project aimed at strengthening the defences of the European banking and financial sector through the definition of innovative methods of analysis and prevention of IT risks.
The project is now entering in the final phase and we are excited to announce the results in a virtual event scheduled on December 16 from 10:00 to 1:00 (CET).
Leading speakers from organizations like European Commission, European Banking Federation, European Central Bank, Bank of Italy, Poste Italiane, Intesa Sanpaolo have been invited.
______________
10.00 A.M. - 10.45 A.M.
Opening Remarks

Romano Stasi, General Manager ABI Lab
Monika Lanzenberger, Research Programme Officer European Commission
topic: CEF Cybersecurity for the financial sector

Claudio Impenna, Head of the Market Supervision and Payments System Service Bank of Italy
topic: Regulatory framework
10.45 A.M. - 11.15 A.M.
Project Results

Piero Piperno, Senior Research Analyst ABI Lab
Federico Del Bianchi, Manager Deloitte Risk Advisory

11.15 A.M. - 12.00 P.M.
Practical Experience of REDFin Methodologies

Mario Trinchera, Technical Coordinator CERTFin ABI Lab
topic: Intro on REDFin methodologies
Ilenia Vettorello, Cyber Culture and Awareness Manager Intesa Sanpaolo
topic: Testimonial for the framework application
Nicola Sotira, Information Security Manager Poste Italiane
topic: Testimonial for the framework application
12.00 P.M. - 12.45 P.M.
International Highlights

Gianandrea Padovani, Operational Resilience - Strategy & development Bank of England
topic: CBEST
Liga Semane, Policy Advisor EBF
topic: Regulatory concerns of cybersecurity for financial sector
Rossen Naydenov, Officer in Network Information Security ENISA
topic: Threat Landscape Scenario
12.45 P.M. - 1.00 P.M.
Closing Remarks
Romano Stasi, General Manager ABI Lab
______________
Partner della Puntata: